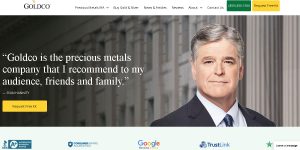 Precious metals are a one-of-a-kind investment because you can physically touch them–unlike the stock market. Also, their price isn't influenced by the stock market like other investments, which makes them ideal for guarding against risks in a 100% stock portfolio.
Although Goldco has an amazing reputation, they're not the only gold IRA provider. How much are their fees? What are the minimum requirements? Is this company right for you?
In this article, we will go into detail about everything you need to know about Goldco Precious Metals.
What is Goldco?
Goldco Precious Metals, formally known as Goldco, is a provider for those who want to have a precious metals IRA. They're based in beautiful California and were established by Trevor Gerszt in 2006.
What separates them from other providers are the main services they offer: You can not only purchase gold and silver IRAs, but also buy precious metals directly with coins and bars range from selection of gold and silver. However, there is a slight downfall– their account minimums are set pretty high at $25000 cash-purchase wise with a rollover IRA needing at least $100 000. (This might make their IRAs unattainable for some potential investors.)
Looking for a lower minimum investment? American Hartford Gold offers the chance to invest in a precious metals IRA with only $10,000.
Goldco does offer the ability to roll over any type of existing retirement account, including IRAs or 401(k), 403(b), and TSP accounts–not just savings accounts.
Would you roll your retirement savings into a gold IRA?
Goldco also has a solid reputation with its users. It boasts an A+ rating with the Better Business Bureau, as well as a AAA rating with the Business Consumer Alliance.
Goldco Features
Competitive pricing

Useful educational resources

Rollovers are very easy + no fees

High minimum investment

Flat rate fee more expensive for lower balances
Let's break down the key features Goldco offers its customers.
Gold and Silver IRAs
Goldco Precious Metals offers gold and silver IRAs as its primary service. These investment accounts, which come with tax advantages, let you invest in gold and silver for retirement.
You can get started by signing up on Goldco's website or requesting a free informational kit. Afterward, if you want to fund your IRA with Goldco, you can do so by rolling over an existing retirement account—any tax-advantaged account will work (e.g., another IRA, 401(k), 403(b) account).
From there, you can choose to invest your retirement savings in gold and silver coins and bars. If you're currently only invested in the stock market, this is a healthy way to diversify your portfolio.
How much do you have saved for retirement?
The government has set specific requirements, such as purity, that the gold and silver in a precious metals IRA must meet. Goldco makes it easy to only purchase IRA-approved gold and silver by selling directly to their customers. In fact, Goldco requires its members to purchase from them rather than some other provider.
So, if you have another IRA invested in precious metals, you unfortunately can't transfer it to fund your Goldco account. Some people might see this as a dealbreaker, but if you're interested in diversifying your portfolio, Goldco also offers investment opportunities in other precious metals like platinum and palladium. Their experts specialize in helping customers choose the right mix of metals to invest in based on their goals.
Goldco offers retirement accounts for investing in gold and silver, but keep in mind that there is a minimum investment of $25,000. Even so, if you can meet the requirements and want a straightforward IRA account for precious metals, Gold or Silver IRAs from Goldco could be worth your while.
Precious metal sales are processed by their team–who also boast great customer service–so opening an account is easy sailing.
Buy Precious Metals Directly
If you're interested in buying gold or silver, but don't want to open an IRA, Goldco can help. They offer a wide range of coins and bars in both metals. Their offerings include:
Gold American Eagles

Silver American Eagles

Gold American Eagle Proofs

Silver American Eagle Proofs

Silver American Bald Eagles

Silver Australian Spotted Eagle Rays

Silver Australian Striped Marlins

Gold Australian Striped Marlins

Gold bars

Silver bars and more
Buyback Program
Do you have concerns about how to liquidate your gold? Goldco offers a buyback program so that you can take distributions when it's time. You won't need to locate a dealer who buys gold.
Just like with any IRA, you're able to take distributions at 59 and 1/2 without being penalized.[2]
Precious Metals Storage
While the government doesn't allow you to store gold and silver in a personal IRA, Goldco provides several storage options:
Goldcos Fees
While Goldco doesn't have fees published on their website, we discovered them after speaking with a representative. Here are the notable ones:
$80 one-time setup fee

$200 annual storage, maintenance, and insurance fee
The minimum purchase for anyone buying gold or silver outside of an IRA account is $25,000. Their set-up fees and annual rates compare favorably to other companies that enable customers to buy gold IRAs.
Bottom Line
Goldco is a reputable provider of gold and silver IRAs with excellent customer service. However, it does have a relatively high minimum deposit. If $25,000 is too high of a minimum investment for you, consider another provider such as American Hartford Gold.